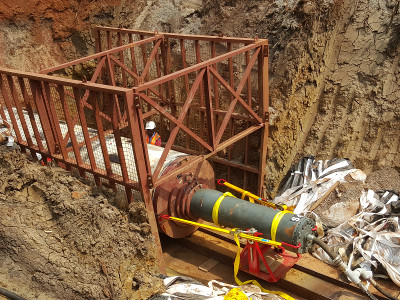 For an important market in Uganda the French company SOGEA SATOM lays several kilometers of gravity lines. Many of them undercross roads, railways and other obstacles. This requires Trenchless Technology. Pipe diameters of Ø 800 mm – Ø 1'400 mm (32"-55") and lengths up to 60 m (200 ft) require the technology of steel pipe ramming. Therefore steel pipes Ø 1'000 mm – Ø 1'800 mm are installed.

The Uganda branch of SOGEA SATOM had decided to use the TERRA-Ram TR 565.

Pic. 1: Preparation of the cutting ring for the first steel pipe. It reinforces the "nose" of the steel pipe.

Pic. 2: Preparation of the ramming pit. A U-Profile is installed with the correct alignment. The U-Profile guides the steel pipe.

Pic. 3: The first steel pipe Ø 1'500 mm (59") is lifted into the ramming pit.

Pic. 4: The ram ring and the TR 565 are assembled.

Pic. 5: The steel pipe ram is assembled and connected to the steel pipes. The excavator shovel holds the steel pipe during the first meters.

Pic. 6: A 7m (23 ft) long steel pipe is driven in with a speed of 11 m/h (36 ft/h). The TR 565 is disassembled.

Pic. 7: Totally three 7 m (23 ft) long steel pipes are rammed in (total 21 m = 70 ft).

The steel pipe is cleaned inside with compressed air.